Dear Members.

Great news we have made a small update to out Post Emoticons
We now have new groups for our smileys depending on size.

 



 Screen Shot: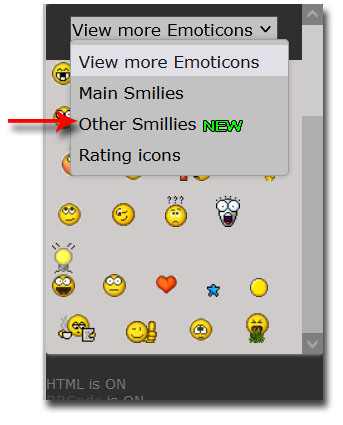 New Emoticons we have added.


If you have others you would like to add please let me know and i will see if i can add them.

Toolbar update:
Thanks to the help of @pedxz  the wording welcome Guest
has now been changed to "



You're logged in as Guest"

We will see you really soon for other updates.



| | |
| --- | --- |
| A chat World Official Announcement | |

JENNY

Administrator






Gender :
1325
Likes : 205
2010-06-18


Promotion's Members

You are a Promotion's Members

Bug Buster

You helped us fix a bug

10th Year

Member for 10 years

you have 15+ Friends

You now have 15+ Friends

Forum Gamer

for members who play the forum games.

The Team Members

If you are staff you will have this icon

Graphic Designer

You get this award when you are a Graphic Designer

Idea's Team

When you come up with Idea's for the forum

Introduced Yourself

When you Introduce Yourself on the main forum

What you talking about?

When you have all the Groups on the site

Forum lover.

for them members who love to post on our forum

Credit store spender

You get this if you buy a item from the store.

Big Spender

You get this as you have spent lots of credits in our store

Forum Pet Owner

You get this award if you own a pet on your profile

1000 posts

You get this award when you have hit 1000 posts

You have 200+ liked posts

You get this when you get 200+ liked posts

You have 100+ likes

You get this award when you get 100 or more likes



APE, cassini, pedxz and GalaxySoul Likes This Post

---
Permissions in this forum:
You
cannot
reply to topics in this forum