Page 13 of 13 •

1, 2, 3 ... 11, 12, 13

First topic message reminder :
Forum Name: IconSkouliki Graphics
Forum Address: https://iconskouliki.forumgreek.com
Forum Description: Graphic creations available to everyone/ Graphic requests
Other Information: Also you can find 

Photoshop and Useful Information
Photoshop tutorials
Promote or advertise your forum, website or blog
Online Photo Editor
IconSkouliki Forum Store and Forum Awards
Forumotion Tutorials
Support to Foumotion users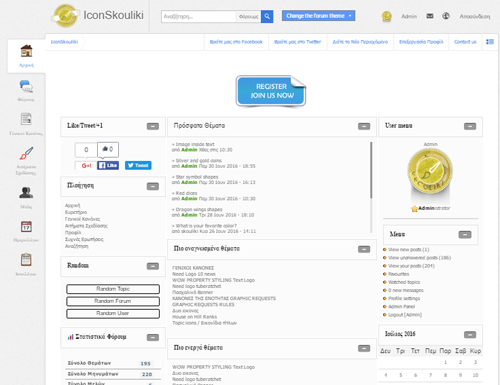 All image creations in this forum are only for personal and non commercial use.
You may not sell or distribute our graphics without our written permission.
Backlink to https://iconskouliki.forumgreek.com/
REQUIRED
.
| | |
| --- | --- |
| A  chat World Official Promotion Post | |
Last edited by skouliki on 2020-12-29, 08:06; edited 3 times in total

skouliki

Premium Member




558


500 posts

You get this award when you have hit 500 posts

Premium Member

You become a Premium Member

You have 200+ liked posts

You get this when you get 200+ liked posts

Graphic Designer

You get this award when you are a Graphic Designer

Introduced Yourself

When you Introduce Yourself on the main forum

Credit store spender

You get this if you buy a item from the store.

Total Chatter

for them who can't shut up

Big Spender

You get this as you have spent lots of credits in our store

Forum Pet Owner

You get this award if you own a pet on your profile

Promotion's Members

You are a Promotion's Members

5th Year

Member for 5 years

Bday 1

been mentioned in a birthday comment !!

Your getting there.....

5 Friends



---

skouliki

Premium Member




558


500 posts

You get this award when you have hit 500 posts

Premium Member

You become a Premium Member

You have 200+ liked posts

You get this when you get 200+ liked posts

Graphic Designer

You get this award when you are a Graphic Designer

Introduced Yourself

When you Introduce Yourself on the main forum

Credit store spender

You get this if you buy a item from the store.

Total Chatter

for them who can't shut up

Big Spender

You get this as you have spent lots of credits in our store

Forum Pet Owner

You get this award if you own a pet on your profile

Promotion's Members

You are a Promotion's Members

5th Year

Member for 5 years

Bday 1

been mentioned in a birthday comment !!

Your getting there.....

5 Friends



new tutorials 

Modify the text "View posts since last visit, View your posts and View unanswered posts"
https://iconskouliki.forumgreek.com/t901-tutorial-modify-the-text-view-posts-since-last-visit-view-your-posts-and-view-unanswered-posts#4653

Posters list modifications 
https://iconskouliki.forumgreek.com/t910-tutorial-posters-list-modifications#4747

Style the awards https://iconskouliki.forumgreek.com/t911-tutorial-style-the-awards#4760

-------

forum store updated---new hover avatar effects are added and new pets

skouliki

Premium Member




558


500 posts

You get this award when you have hit 500 posts

Premium Member

You become a Premium Member

You have 200+ liked posts

You get this when you get 200+ liked posts

Graphic Designer

You get this award when you are a Graphic Designer

Introduced Yourself

When you Introduce Yourself on the main forum

Credit store spender

You get this if you buy a item from the store.

Total Chatter

for them who can't shut up

Big Spender

You get this as you have spent lots of credits in our store

Forum Pet Owner

You get this award if you own a pet on your profile

Promotion's Members

You are a Promotion's Members

5th Year

Member for 5 years

Bday 1

been mentioned in a birthday comment !!

Your getting there.....

5 Friends



List of Tutorials

AwesomeBB
Move widgets on the right - AwesomeBB

Add social icons to the navigation bar - AwesomeBB 

ModernBB
Remove the sticky navbar - ModernBB 

Replace the online icon with online/offline images-ModernBB & AwesomeBB  

PhpBB3
Change the small text on the signatures - PhpBB3

Removing current time/date - PhpBB3

All versions
Add fireworks

Codes not visible for guests

Account switch widget

Scrolling images/text to the signature

Forum body shadow

Search option in different categories

Add a rainbow effect to text in your forum 

Codes with many lines expand the page

Show widgets only on the home page

Add social icons below the navigation bar  

Forum Point Shop  

Mobile banner background (removal) 

Mobile banner background customization 

Toggle button for the Who's Online section 

Drop-down menu on the toolbar 

Move the mobile widgets on top of the page 

Mobile menu modifications 

Hide codes from guests (please login or register to view it) 

Disable the option "Hide my online status" 

Toggle button for the signature 

Changing the word "Legend" with your own text  

Seasonal widget 

Add animation (snow, stars) to your banner 

Add a table above the "Who is online" 

Change widget's header color 

Gif window modifications 

Wrap text around an image 

Highlight or color the search results 

Style chatbox avatar and join button 

Circle Avatars 

Add music to your forum 

Convert your forum to grayscale 

Modify the text "View posts since last visit, View your posts and View unanswered posts" 

Posters list modifications 

Style the awards 

Add an icon to your profile that links to a specific topic 

Highlighted text in posts 


skouliki

Premium Member




558


500 posts

You get this award when you have hit 500 posts

Premium Member

You become a Premium Member

You have 200+ liked posts

You get this when you get 200+ liked posts

Graphic Designer

You get this award when you are a Graphic Designer

Introduced Yourself

When you Introduce Yourself on the main forum

Credit store spender

You get this if you buy a item from the store.

Total Chatter

for them who can't shut up

Big Spender

You get this as you have spent lots of credits in our store

Forum Pet Owner

You get this award if you own a pet on your profile

Promotion's Members

You are a Promotion's Members

5th Year

Member for 5 years

Bday 1

been mentioned in a birthday comment !!

Your getting there.....

5 Friends



APE and tikky Likes This Post
new tutorials
Add more buttons on quick reply - AwesomeBB
Enable/Disable Like feature according to sub-forums 

skouliki

Premium Member




558


500 posts

You get this award when you have hit 500 posts

Premium Member

You become a Premium Member

You have 200+ liked posts

You get this when you get 200+ liked posts

Graphic Designer

You get this award when you are a Graphic Designer

Introduced Yourself

When you Introduce Yourself on the main forum

Credit store spender

You get this if you buy a item from the store.

Total Chatter

for them who can't shut up

Big Spender

You get this as you have spent lots of credits in our store

Forum Pet Owner

You get this award if you own a pet on your profile

Promotion's Members

You are a Promotion's Members

5th Year

Member for 5 years

Bday 1

been mentioned in a birthday comment !!

Your getting there.....

5 Friends



APE and JENNY Likes This Post
Page 13 of 13 •

1, 2, 3 ... 11, 12, 13

---
Permissions in this forum:
You
cannot
reply to topics in this forum