Each week I will try and post home cooked recipes I have made at home for my family.
Some photo's will be of our food after it's cooked and some will just come from the book / internet.
Spaghetti and meatballs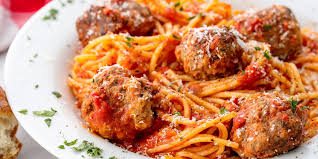 Today 26.09.2018
Dinner -
Preparation time :
less than 30 mins
Cooking time :
30 mins to 1 hour
Serves :
Serves 4
Ingredients
For the sauce
1 tbsp olive oil
1 brown onion, diced
1 garlic clove, finely chopped
1 tsp dried mixed herbs
400g tin tomatoes
500ml/18fl oz vegetable or beef stock (from a cube)
400g/14oz dried spaghetti
salt and pepper
For the meatballs
400g/14oz beef mince
1 garlic clove, finely chopped
½ tsp dried mixed herbs
1 tbsp olive oil
Method


Heat a large saucepan over a medium heat and add the olive oil. Once hot, add the onion and cook gently without browning for 4–5 minutes, or until softened and translucent. Add the garlic, continue to cook for 2 minutes until aromatic, then add the dried herbs, tomatoes and stock. Bring the sauce to a simmer, reduce the heat and simmer gently while you make the meatballs.

For the meatballs, mix together the beef, garlic and herbs along with a decent pinch of salt and pepper. Using wet hands roll into 20 balls.

Heat a frying pan over a medium heat and add the olive oil. Once hot, fry the meatballs on all sides until nicely coloured, being careful not to burn them. You may need to do this in batches. Transfer to the saucepan containing the sauce.

Continue to simmer the sauce for 10 minutes while you cook the spaghetti.

Bring a large saucepan water to the boil, add a pinch of salt and cook the spaghetti according to the packet instructions. Once cooked, drain and tip into the saucepan with the meatball sauce. Mix well and serve hot.

The only thing I did that was not done here is i added cheese in the middle of the meat ballsWhat this dose is when you cut the meat balls in half the cheese oozes out
Simple beef stew
Serves: about 6 to 10 
Ingredients


900g stewing steak

3 tablespoons vegetable oil

4 beef stock cubes, crumbled

1L water

1 teaspoon dried rosemary

1 teaspoon dried parsley

1/2 teaspoon ground black pepper



3 large potatoes, peeled and cubed

4 carrots, cut into 2.5cm pieces

4 sticks celery, cut into 2.5cm pieces

1 large onion, chopped

2 teaspoons cornflour

2 teaspoons cold water

Method

Prep:20min  ›  Cook:2hr  ›  Ready in:2hr20min 
In a large casserole, cook beef in oil over medium heat until brown. Dissolve stock cubes in water and pour into pan. Stir in rosemary, parsley and pepper. Bring to the boil, then reduce heat, cover and simmer 1 hour.
Stir potatoes, carrots, celery and onion into the casserole. Dissolve cornflour in 2 teaspoons cold water and stir into stew. Cover and simmer 1 hour more.
Add on for this if you like:
I love to add a little Lea & Perrins Worcestershire Sauce when serving up and a little fresh grated parmesan cheese
Pumpkin soup
Pumpkin soup in a white bowl, topped with croutons
Prep: 20 mins Cook: 25 mins
Serves 6
Ingredients
  2 tbsp olive oil
  2 onions
  1kg pumpkin - Finely chopped
  700ml vegetable stock or chicken stock
  150ml double cream
For the croutons
  2 tbsp olive oil
  4 slices wholemeal seeded bread, crusts removed
  handful pumpkin seeds
Method
  Heat 2 tbsp olive oil in a large saucepan, then gently cook 2 finely chopped onions for 5 mins, until soft but not coloured.
  Add 1kg pumpkin or squash, cut into chunks, to the pan, then carry on cooking for 8-10 mins, stirring occasionally until it starts to soften and turn golden.
  Pour 700ml vegetable or chicken stock into the pan and season with salt and pepper. Bring to the boil, then simmer for 10 mins until the squash is very soft.
  Pour 150ml double cream into the pan, bring back to the boil, then purée with a hand blender. For an extra-velvety consistency you can pour the soup through a fine sieve. The soup can now be frozen for up to 2 months.
To make the croutons: cut 4 slices wholemeal seeded bread into small squares.
Heat 2 tbsp olive oil in a frying pan, then fry the bread until it starts to become crisp.
Add a handful of pumpkin seeds to the pan, then cook for a few mins more until they are toasted. These can be made a day ahead and stored in an airtight container.
Reheat the soup if needed, taste for seasoning, then serve scattered with croutons and seeds and drizzled with more olive oil, if you want.
Just great for a cold Halloween night
Homemade pumpkin pie

Serves about
14 
Prep:30min  ›  Cook:1hr10min  ›  Ready in:1hr40min
Ingredients
For the filling


500g (1 1/4 lb) pumpkin, cooked and pureed

1 (410g) tin evaporated milk

2 eggs, beaten

175g (6 oz) dark brown soft sugar

1/2 teaspoon ground cinnamon

1/2 teaspoon ground ginger

1/2 teaspoon ground nutmeg

1/2 teaspoon salt

For the pastry


350g (12 oz) plain flour

1 teaspoon salt

200g (7 oz) butter

125ml (4 fl oz) cold water



Preheat oven to 200 C / Gas mark 6.

Halve pumpkin and scoop out seeds and stringy portions. Cut pumpkin into chunks. In a saucepan over medium heat, cover the pumpkin with water and bring to the boil. Reduce heat to low, cover and simmer for 30 minutes or until tender. Drain, cool and remove the peel.

Return pumpkin to the saucepan and mash with a potato masher. Drain well, and measure 500g of the mashed pumpkin; reserve any excess pumpkin for another use.

Prepare pastry by mixing together the flour and salt. Rub butter into flour, and add 1 tablespoon cold water to mixture at a time. Mix and repeat until pastry is moist enough to hold together.

With lightly floured hands, shape pastry into a ball. On a lightly floured board, roll pastry out to barely a .25cm thickness. Transfer to a 20 or 23cm pie dish, gently pressing pastry into the bottom. Cut off any excess pastry hanging over the sides of the dish, and pinch pastry securely around the inner edge.

In a large bowl with mixer speed on medium, beat pumpkin with evaporated milk, eggs, sugar, cinnamon, ginger, nutmeg and salt. Mix well. Pour into a prepared pie dish. Bake 40 minutes or until a knife inserted in the centre comes out clean

Also great for them cold Halloween Night's 
Why not try and make it and tell us what you think right here.
---
Permissions in this forum:
You
cannot
reply to topics in this forum