Dear members.

We are pleased to announce a new feature to our forum.

Thanks to our host Forumotion we have now a great new feature to help our members follow their friends on the forum.

Q, How to I follow a member ?
A, click on any members username so it takes you to the members profile. under the Avatar you will see the new follow a members button.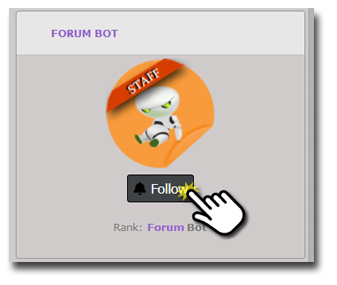 Q, How can I stop following a member ?
A, This is the same as adding a member you just click the button again then this will stop your request.

Q, How can i get told of new posts made by my flowed members ?
A, You can pick in your Notifications settings how to be told when they have made a new topic.




Q, How do I know which members I follow?
A, To know the list of members you follow, simply go to the edit page of your profile and select the "Followed members" tab. The list of followed members as well as access to their profile and the action of unfollowing them will be present.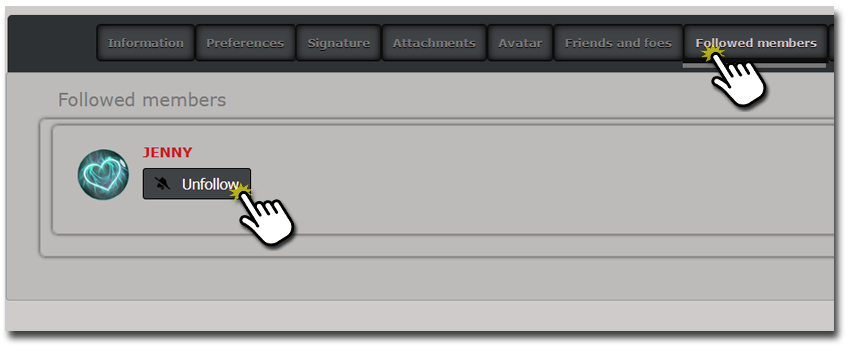 We hope you like our new little feature.

See you soon for more great updates.  
| | |
| --- | --- |
| A chat World Official Announcement | |

APE

Administrator







3656
Likes : 556


What you talking about?

When you have all the Groups on the site

Introduced Yourself

When you Introduce Yourself on the main forum

You now have 50 Friends

You now have 50 Friends

Forum lover.

for them members who love to post on our forum

Gift Giver

When you give a gift to a member from the Store

Big Spender

You get this as you have spent lots of credits in our store

Forum Pet Owner

You get this award if you own a pet on your profile

Credit store spender

You get this if you buy a item from the store.

The Team Members

If you are staff you will have this icon

Idea's Team

When you come up with Idea's for the forum

Promotion's Members

You are a Promotion's Members

Graphic Designer

You get this award when you are a Graphic Designer

Bug Buster

You helped us fix a bug

10th Year

Member for 10 years

Forum Gamer

for members who play the forum games.

You have gave 300+ likes

You get this award as you have gave 300+ likes

Bday 1

been mentioned in a birthday comment !!

You have 3500+ Posts

You have 3500+ Posts

You Got 300+ liked posts

You get this when you get 250+ liked posts

Tutorial contribution member

Tutorial contribution member



APE, JENNY and tikky Likes This Post

---
Permissions in this forum:
You
cannot
reply to topics in this forum